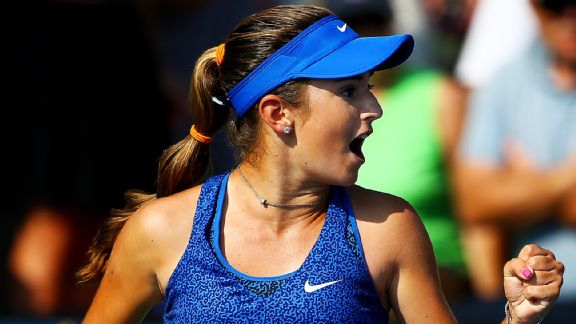 Yesterday, 15-year-old Catherine Bellis shocked the tennis world when she defeated 12th-seeded Dominika Cibulkova, 6-1,4-6, 6-4, in what is by far the biggest upset in the first two days of the 2014 US Open. The California native entered the match ranked 1,208th in the world, some 1,195 spots behind Cibulkova, the runner-up at this year's Australian Open. The surprise victory makes Bellis the youngest player to win a US Open match since 1996.
So who is this Catherine Bellis? Here are 10 things to know...
1.) Her nickname is 'CiCi.'
Her middle name is Cartan, so Catherine Cartan... CiCi... makes sense to me.
2.) She was born in 1999.
The same year that gave us
The Sopranos, Who Wants To Be A Millionaire?, Fight Club, The Matrix,
and the debut of Britney Spears.
Andre Agassi and Serena Williams won the 1999 US Open.
3.) She is from San Francisco.
Now she lives in Atherton, California. You may spot her at Stanford Mall, one of her favorite hangouts with her friends.
4.) She won the USTA Girls 18's National Championships.
Bellis earned her wild card spot in the Open's main draw by winning the USTA Girls 18's National Championships earlier this month, defeating Tornado Alicia Black in straight sets.
5.) She loves Ellen Degeneres.
In her post-match press conference yesterday, CiCi was asked what talk show she would like to be a guest on. She said, "I love Ellen. I think would like to go on Ellen."
Your move, Ellen.
6.) Kim Clijsters is her idol.
Growing up, Bellis loved watching Clijsters. She admired her confidence, her game, and how she carried herself.
7.) She plans to keep her amateur status.
Bellis plans to attend college so she is prepared for life without tennis, should anything go wrong. The $60,000 she would've banked for the win as a professional hasn't even entered her mind.
8.) She's so over Justin Bieber.
She used to like him when she was younger, she claims, but that was a couple years ago. She's sooo over Bieber Fever now.
9.) She likes to cook and watch movies.
And play tennis, obviously.
10.) She faces Zarina Diyas in the second round.
Diyas, a Top 50 player, needed only 15 games to win her first round match over Lesia Tsurenko. At 20 years old, Diyas is also a youngster trying to make a name for herself on the tour. It'll be the first meeting between the two.