Covering the Australian Open from America isn't easy on one's sleep schedule, especially while balancing the tennis with another full-time job. A man's gotta get at least a little shut-eye each night and the 16-hour time difference between Melbourne, Australia and Lexington, Kentucky isn't the ideal setup when pulling double duty. That 7:00 p.m. primetime match in Rod Laver Arena each night? It airs over here in the States at 3:00 a.m., right around the time my eyelids tend to throw in the towel. I can only drink so much Mountain Dew before the high fructose corn syrup coma sets in.
Each American morning we'll review the Australian Open results and happenings while The Outer Courts was resting its eyes 9,500 miles away. Here is the first edition of "While We Were Sleeping"...
Novak Djokovic is one step closer to Aussie history.
Three-time defending champ Novak Djokovic won his 22nd consecutive match in Melbourne Monday night (or early Monday morning) by defeating Lukas Lacko, 6-3, 7-6 (2), 6-1. Djokovic, who called himself "rusty" after the win, is chasing his fifth Australian Open title, a feat no man has achieved since the Open Era began in 1968. Djokovic is currently tied with Andre Agassi and Roger Federer at four titles apiece.
Roy Emerson won six titles when it was the Australian Championships, but we're not here to talk about the Australian Championships.
Serena Williams beat a 17-year-old.
Five-time Aussie champ Serena Williams defeated the local girl, 17-year-old Ashleigh Barty, in two quick sets. Barty held serve to take the first game, which brought on a huge roar from the crowd, but the match was over in under an hour. Williams advances to face Vesna Dolonc in the second round.
Fun Fact: Barty was six years old when Serena won her first Australian title in 2003.
Denis Istomin and his glasses defeated Marcos Baghdatis.
2006 runner-up Marcos Baghdatis was given an early exit from Melbourne by Denis Istomin in three straight sets. The win was a controversial one, at least to me, considering Istomin was wearing Google Glass during the match.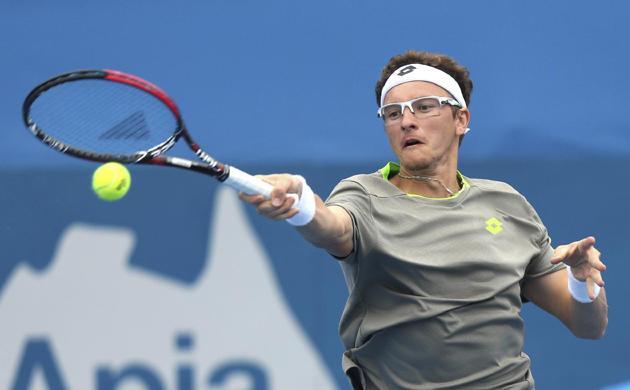 I demand an investigation. Istomin could've been watching YouTube, checking Twitter, taking photos, or reading The Outer Courts during play. I bet he was reading The Outer Courts. And that's an incredibly unfair advantage.