Sloane moves on.
It was another fun day for The Outer Courts at the Lindner Family Tennis Center. Here's a rundown of the Tuesday action...
I told you my moment with Sloane Stephens in the elevator was magical.
Ten minutes prior to Sloane Stephen's Tuesday night match with third-ranked Maria Sharapova, I guaranteed an upset from the American. I made it very clear: it wasn't a prediction; it was a guarantee. And Sloane delivered.
Sharapova, the 2011 Western & Southern Open champion, won the first set convincingly, but my optimism never wavered. Not even after two double faults on two match points did I think Sloane would end up on the losing end. It was her night. I felt it when her gigantic tennis bag pinned me against the wall in the elevator. I felt it again when I yelled "Good luck!" as she walked away without ever acknowledging me standing there. That connection, that one-sided connection, it was real and her win tonight proved it.
See you in the elevator on Thursday, Sloane. I'll ride it up and down until we meet again.
Grigor Dimitrov broke another heart today.
This time, it was mine.
The one Serena Williams calls "the guy with a black heart" broke mine today when he sent Brian Baker home from singles competition. I was just growing fond of Baker too, after learning he is from a family of Kentucky Wildcats fans. On Tuesday I was told Mama and Papa Baker are from two western Kentucky towns, each within an hour drive from my hometown. Brian is from Nashville, a city I frequent when looking to casually bump into several bachelorette parties on the weekends.
It would've be nice to see him get a win over Dimitrov, but it just wasn't in the cards today.
Jack Sock is 0-2 lifetime when we sit courtside.
Matt and I have now seen Jack Sock play twice in our tennis-blogging careers. Both times he won the first set. And both times he lost the match.
So if you're on the ATP tour and ever find yourself up against Sock in the draw, shoot us an e-mail or a tweet and invite us to the match. It'll work out in your favor.
One step closer to a Federer-Nadal quarterfinal.
Roger Federer and Rafael Nadal need to win two matches apiece to set up a head-to-head meeting in the quarterfinals of the tournament. Federer took care of his first opponent in the final match at Center Court on Tuesday.
Federer defeated Philipp Kohlschreiber 6-3, 7-6 (7) in his first hard court match since March. He'll face the Tommy Haas/Marcel Granollers winner next before the potential showdown with Nadal.
Nadal meets Benjamin Becker at 7:00 p.m. tomorrow night in his first match of the tourney, with Grigor Dimitrov waiting in the next round.
One win down. Three to go.
We crashed the broadcast booth with Ian Eagle and Lindsay Davenport.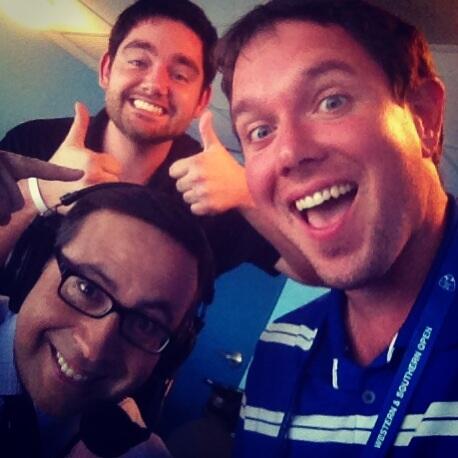 Ian Eagle leaned in for a selfie while doing play-by-play.
See what happens when Ian and Lindsay forget to lock the door to Center Court's broadcast booth? The Outer Courts bloggers show up and crash the party. I applaud their ability to stay composed and professional, though.
Ryan Harrison made David Ferrer work for it.
The 21-year-old American put up a hard-fought match against fourth-ranked David Ferrer on Center Court. After losing a first set tiebreaker, Harrison won the second set and had a 40-15 lead in the 10th game of the third. Two game points weren't enough, though, as Ferrer climbed back and took the third set 6-4, winning the match 7-6 (5), 3-6, 6-4.
Only John Isner and James Blake remain for the United States in Cincinnati.
Check out Tennis Channel's pregame show at 10:30 a.m. tomorrow morning.
We had a fun time shooting a segment with Ian Eagle about our first two days at the tournament. It's set to air during Tennis Channel's pregame show Wednesday morning.
See you back here in a few...