Wednesday at the 2013 Western & Southern Open is no more, now we're counting down the hours to an exciting Thursday slate of matches. Matt and I have retired to our hotel rooms for the evening but I have a quick recap of the day before lights out. Let's run through it...
The elevator magic continues.
After sharing the elevator with me prior to his match Wednesday morning, John Isner defeated No. 8 seed Richard Gasquet 7-6 (6), 6-2. That makes two upsets in as many days for players who ride with The Outer Courts on the way to their match. Last night, Sloane Stephens defeated Maria Sharapova minutes after our heartfelt, one-sided moment in the tiny capsule of destiny.
Plus more elevator magic to come!
Murray, Djokovic and Nadal cruised to victories.
Aside from Djokovic's first set against Juan Monaco, it was pretty smooth sailing for three of the top four seeds on Center Court. Djokovic, the tournament's top seed, defeated Monaco 7-5, 6-2; Nadal followed that up with a seemingly easy win over Benjamin Becker; and Andy Murray won 6-2, 6-3 over Mikhail Youzhny in the first match of the day.
Only Grigor Dimitrov and Tommy Haas stand in the way of the Federer-Nadal quarterfinal showdown.
James Blake needs Dri-Fit tennis apparel.
Never mind his loss to Dmitry Tursunov, we need to talk about James Blake's gear. It looked like he was wearing a 100% cotton grey shirt and hand-me-down tennis shoes. These days professional athletes wear top-of-the-line, performance-enhancing apparel with Dri-Fit UV fabric and mesh panels for ventilation -- whatever that means. But Blake? He looked like he's endorsed by Goodwill and I think it ultimately cost him his match.
Get with the times, James.
Martina Hingis is playing tennis again.
I thought someone was joking when the draw came out, but she's really back. And she looked pretty good.
Unfortunately, Martina and her partner, Daniela Hantuchova, drew the one-seeded Errani/Vinci doubles team so good wasn't good enough today. Hingis and Hantuchova lost 6-4, 6-4.
Venus Williams lost.
But she has a new clothing line!
Milos Raonic is still going strong.
Eight matches in nine days? No problem. Raonic slipped passed Janko Tipsarevic in two sets to advance to the round of 16. The Canadian will face John Isner, the last remaining American in the tournament on Thursday.
Milos is one of the hottest players in tennis right now.
I got a serious sunburn.
It's the price we pay to cover the sport we love.
Rafael Nadal will win the tournament.
How do I know this, you ask?!
The elevator strikes again!
Rafa and I sent SnapChats to friends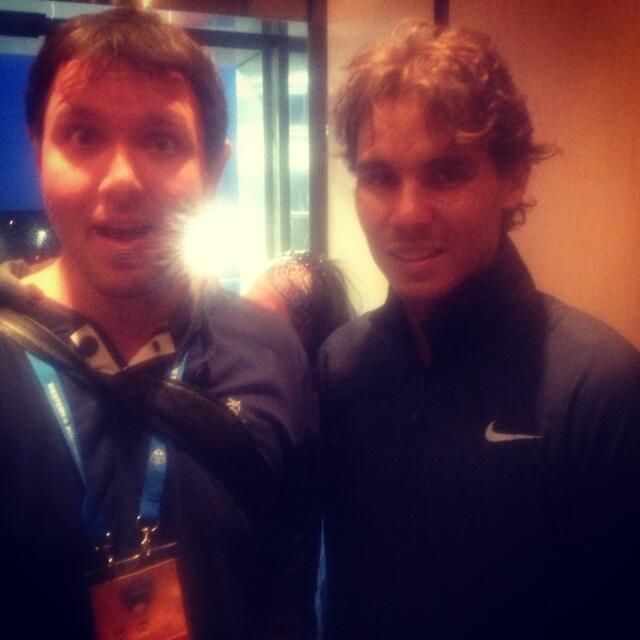 Matt can hardly contain his excitement